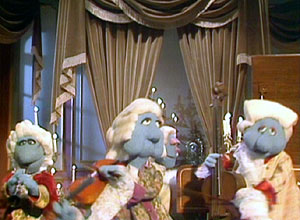 The String Quartet performed Boccherini's Minuet in A Major in episode 513 of The Muppet Show. They never spoke, but had a flair for sadistic artistry and destruction. As a result, they were dismissed from The Muppet Theatre and never again asked back.
One of them is made from the same whatnot as Marvin Suggs.
See also
Ad blocker interference detected!
Wikia is a free-to-use site that makes money from advertising. We have a modified experience for viewers using ad blockers

Wikia is not accessible if you've made further modifications. Remove the custom ad blocker rule(s) and the page will load as expected.