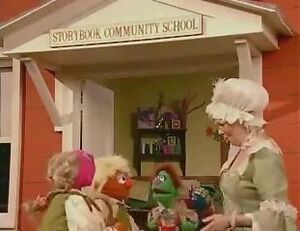 Storybook Community School is a school for storybook characters, taught by Mrs. Goose. Students include Abby Cadabby, Baby Bear, Jack and Jill, Peter Piper, Hansel and Gretel, Mary, and Little Red Riding Hood.
Baby Bear attended his first day of school in a 2005 episode of Sesame Street, while Abby Cadabby's first day was seen one year later in a 2006 episode of Sesame Street.
Ad blocker interference detected!
Wikia is a free-to-use site that makes money from advertising. We have a modified experience for viewers using ad blockers

Wikia is not accessible if you've made further modifications. Remove the custom ad blocker rule(s) and the page will load as expected.