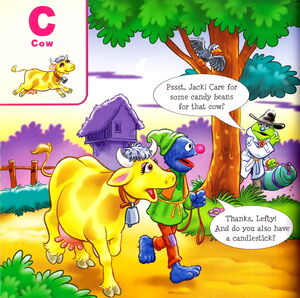 Storybook ABCs is a Sesame Street alphabet book that presents a scene from a fairy tale or nursery rhyme for each letter. Published in 2008, it features a few classic Muppet characters, including Grundgetta, Gladys the Cow, and even the retired character Lefty the Salesman.
The Nursery Rhymes and Fairy Tales included or referenced in the book are:
Reissue
This book was reissued with the same cover in 2010 by Creative Edge/Dalmatian Press, ISBN 1403795212
Ad blocker interference detected!
Wikia is a free-to-use site that makes money from advertising. We have a modified experience for viewers using ad blockers

Wikia is not accessible if you've made further modifications. Remove the custom ad blocker rule(s) and the page will load as expected.