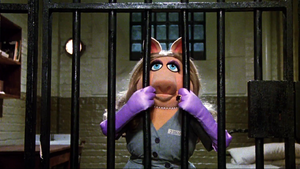 "Stop" was a proposed song for The Great Muppet Caper.
Miss Piggy, in jail, sings a sad ballad about the time she'll be spending behind bars. As the song progresses and years pass, Piggy manages to tunnel her way out of jail and gets caught in the searchlight as she does her big finish. The sequence is then revealed to be all in Piggy's mind, having only spent less than an hour in prison.
See also
Sources
Ad blocker interference detected!
Wikia is a free-to-use site that makes money from advertising. We have a modified experience for viewers using ad blockers

Wikia is not accessible if you've made further modifications. Remove the custom ad blocker rule(s) and the page will load as expected.