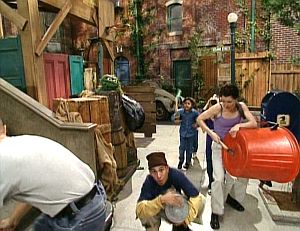 Stomp is the name of a performance troupe combining percussion and dance, created by Luke Cresswell. It's also the name of their stage act, which has toured since 1991.
The group appeared as featured guest stars in the 2000 Sesame Street direct-to-video release Let's Make Music. The plot begins when troupe members Keith Middleton and Jason Mills find Telly's tuba. The other Stomp members included Kimmarie Lynch, Michael Paris, RJ Samson, Marivaldo Dos Santos, and Camille Shuford
External links
Ad blocker interference detected!
Wikia is a free-to-use site that makes money from advertising. We have a modified experience for viewers using ad blockers

Wikia is not accessible if you've made further modifications. Remove the custom ad blocker rule(s) and the page will load as expected.