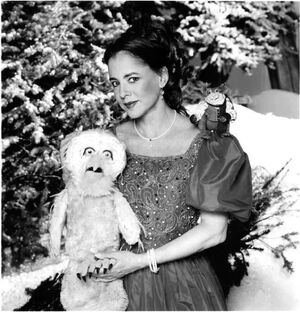 Stockard Channing (b. 1944) is an Academy Award nominated, Emmy and Tony award winning American actress whose best known roles include Rizzo in the movie Grease and First Lady Abbey Bartlet on The West Wing.
In the early days of Sesame Street, Channing was featured in many of the Mad Painter sketches, as the victim of the painter's number obsession (her television debut). She also worked with the Sesame Street Muppets when they guest starred on West Wing, and played Miss Adelaide, the Swedish maid, in Mr. Willowby's Christmas Tree.
At the time the West Wing episode was shot, Sesame Workshop filmed Stockard Channing, Allison Janney, and Lily Tomlin dancing to the song "Dance Myself to Sleep" for The Street We Live On.
External links
Ad blocker interference detected!
Wikia is a free-to-use site that makes money from advertising. We have a modified experience for viewers using ad blockers

Wikia is not accessible if you've made further modifications. Remove the custom ad blocker rule(s) and the page will load as expected.