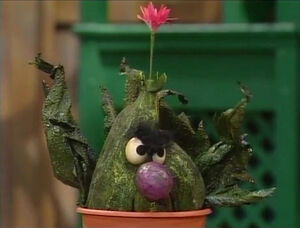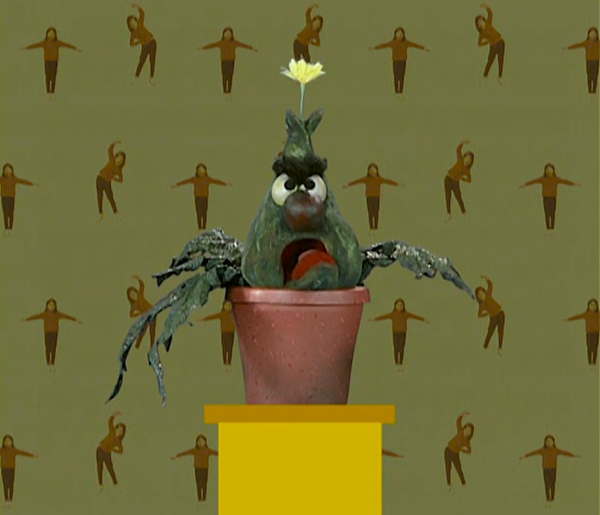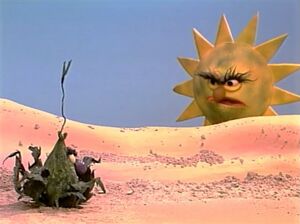 Stinky the Stinkweed is a living stinkweed from Sesame Street. At times he's a bit self-conscious about his smelly lot in life, but he's generally a very friendly plant. He doesn't hesitate to ask for a favor, "If it's not too much of a bother."
At times, Stinky has bloomed single flowers, sprouting right out of his head. Surprisingly, these flowers varied in color: he has been spotted with a pink, blue, yellow and a plain green flower.
When Joey Mazzarino won the Daytime Emmy in 2010 for his performances on Sesame Street, Stinky was one of the official credits listed. A large version of Stinky was incorporated into the Vegetable Garden float in the Sesame Place Neighborhood Street Party parade.
Appearances
Elmo Says Achoo!, a book where Elmo is allergic to Stinky, his gift to Oscar
Elmo's World: Jackets: In the film, Elmo's friends Eric put on his jacket one time. Stinky the Stinkweed makes an appearance superimposed into the picture at the end. (EKA: Episode 3806)
Elmo's World: Friends: In the Quiz, Stinky the Stinkweed represents a plant that someone can be friends with. (EKA: Episode 4109)
Elmo's World: Games: In the Quiz, Elmo plays "Three of These Things Belong Together" with a soccer ball, a jump rope, jacks and Stinky the Stinkweed. Stinky disagrees with the voice-over kids, insisting that you can play a game with him. He demonstrates, playing Simon Says by "growing" a flower. (EKA: Episode 3967)
Elmo's World: Exercise: In the Quiz, What exercises and what doesn't? Stinky the Stinkweed exercises by flexing the flower that comes out of his head. (EKA: Episode 3853)
Elmo's World: Flowers, Plants & Trees: In the Home Video, Elmo shows his expose called, Stinky the Plant. (EKA: Episode 3867)
Elmo's World: Mouths: In the Quiz, plants don't have mouths, unless they're Stinky.