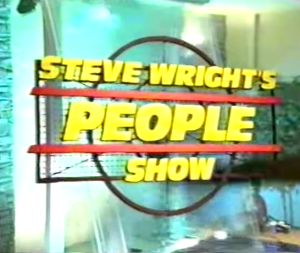 Steve Wright's People Show was a talk show with a heavy music component hosted by BBC radio DJ Steve Wright, broadcast over BBC One from October 1st 1994 until July 22, 1995.
In the second to last broadcast, on July 15, 1995, Kermit the Frog was a guest. Other guests included Kylie Minogue and her sister Danni.
External links
Ad blocker interference detected!
Wikia is a free-to-use site that makes money from advertising. We have a modified experience for viewers using ad blockers

Wikia is not accessible if you've made further modifications. Remove the custom ad blocker rule(s) and the page will load as expected.