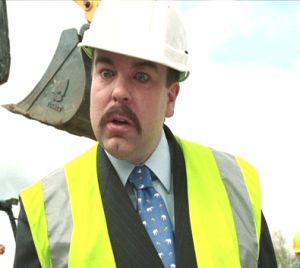 Steve Pemberton (b. 1967) is a British comedian and a member of The League of Gentlemen comedy troupe, and star of the morbid TV comedy of the same title. With fellow "League" members Mark Gatiss and Reece Shearsmith, Pemberton supplied the voices of various Vogons in The Hitchhiker's Guide to the Galaxy. He also appeared on-camera as Mr. Prosser.
Pemberton's other credits include The Life and Death of Peter Sellers (as Harry Secombe), the mini-series Gormenghast (as Professor Mule) and Poirot (guest starring as Dr. Bessner in "Death on the Nile").
Ad blocker interference detected!
Wikia is a free-to-use site that makes money from advertising. We have a modified experience for viewers using ad blockers

Wikia is not accessible if you've made further modifications. Remove the custom ad blocker rule(s) and the page will load as expected.