Stepping Out Bunsen and Beaker Action Figures
Talk

1
Share
Ad blocker interference detected!
Wikia is a free-to-use site that makes money from advertising. We have a modified experience for viewers using ad blockers

Wikia is not accessible if you've made further modifications. Remove the custom ad blocker rule(s) and the page will load as expected.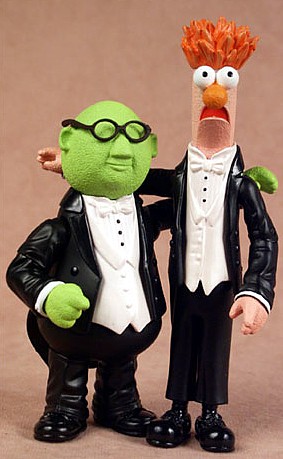 Released: May 30th - June 1st 2003 as Wizard World Exclusive; 2004 through Collector's Club
Articulation: Bunsen: Neck, ball jointed shoulders, elbows (one shivel, one hinge), wrists, waist, hips; Beaker: Neck, ball jointed shoulders, elbows, wrists, waist, ankles
Dr. Bunsen Honeydew and Beaker in their black tuxedoes were produced by Palisades Toys to be sold at Wizard World EAST and through the Palisades Collectors Club.
Except for the tuxedo bodies, the figures are based on the sculpts of the Dr. Bunsen Honeydew Action Figure and the Beaker figure that came with the Muppet Labs Playset. Tuxedo Bunsen's glasses are more solid than the glasses on the signature Bunsen.
Stepping Out Bunsen and Beaker were designed to fit in with Tuxedo Kermit Action Figure, Tuxedo Rowlf Action Figure, Tuxedo Gonzo Action Figure, Stepping Out Fozzie Action Figure and the variant Stepping Out Uncle Deadly Action Figure.