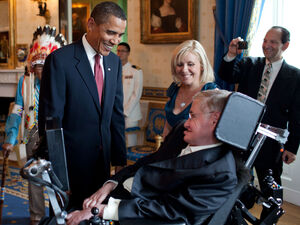 Stephen Hawking (b. 1942) is an English theoretical physicist and cosmologist, whose scientific books and public appearances have made him an academic celebrity.
His 1980 book A Brief History of Time has sold over 10 million copies; the title was also used by Errol Morris for a 1991 biographical documentary scored by Philip Glass. His other books include The Universe in a Nutshell (2001), The Grand Design (2010) and two children's books co-authored with his daughter Lucy Hawking, George's Secret Key to the Universe (2007) and George's Cosmic Treasure Hunt (2009).
Hawking has appeared as himself, and lent his recognizable computer voice, in a number of TV series including Star Trek: The Next Generation, The Big Bang Theory and several episodes of The Simpsons and Futurama.
References