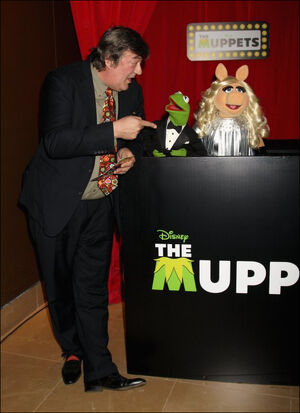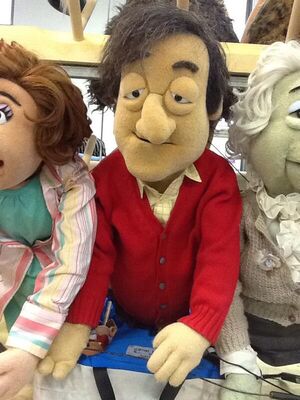 Stephen Fry (b. 1957) is an English comic actor and author. He is well-known for his roles in the British comedy series A Bit of Fry and Laurie, Jeeves and Wooster and several of the Blackadder series. His novels include The Liar and The Hippopotamus.
In 2005, Fry narrated the Creature Shop effects film The Hitchhiker's Guide to the Galaxy, as the voice of the Guide itself. He also supplied the voice and mouth of the computer animated Librarian in the Henson Company film MirrorMask, and appeared on-camera as the blithely ignorant Inspector Thompson in Gosford Park, a 2001 film that included digital effects by the Creature Shop.
In 2012 Fry asked Kermit a twitter question:[1]
Fry: Kermit, how often a day do you gargle to keep your tenor tones so supple?
Kermit: I gargle w/ fresh swamp water 3 X a day & 2 X a day Piggy grabs me by neck & shakes--keeping me supple & rattled.
In 2013 The Creature Shop built a puppet Caricature of Fry named as Dad for the That Puppet Game Show series by the BBC.[2]
Sources
External links
Ad blocker interference detected!
Wikia is a free-to-use site that makes money from advertising. We have a modified experience for viewers using ad blockers

Wikia is not accessible if you've made further modifications. Remove the custom ad blocker rule(s) and the page will load as expected.