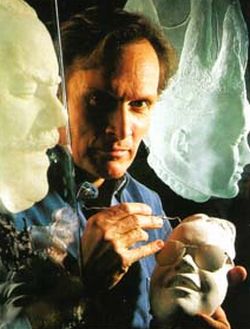 Stephen Brathwaite (b. ca. 1949) is a Canadian puppeteer and artist who served as an additional puppeteer on Follow That Bird. He also puppeteered on episodes of the Creature Shop series B.R.A.T.S. of the Lost Nebula.
Brathwaite is the brother of puppeteer/builder Noreen Young and worked with her on her series Under the Umbrella Tree (as Jacob Blue Jay), and Wacky Palms. He also puppeteered on Groundling Marsh (as Mud), Bookmice (Brash the cat), and the horror comedy Bride of Chucky.
Outside of puppetry, Brathwaite is a prominent glass artist, and has designed and built a variety of structures for exhibition, sale, and even for government projects. He designed the playground in Ottawa's Strathcona Park, a structure resembling ancient ruins.
External Links
Ad blocker interference detected!
Wikia is a free-to-use site that makes money from advertising. We have a modified experience for viewers using ad blockers

Wikia is not accessible if you've made further modifications. Remove the custom ad blocker rule(s) and the page will load as expected.