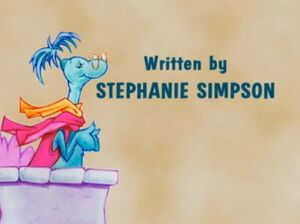 Stephanie Simpson is a writer who scripted two second season episodes of The Wubbulous World of Dr. Seuss. She also served as an executive producer for the season and contributed lyrics to the song "Pirate Chantey.".
Simpson had been a writer/producer on Wishbone and went on to write for Arthur and Postcards from Buster. She ventured outside of children's television to script one episode of 7th Heaven and most recently wrote and executive produced The Octonauts.
Writing credits
Ad blocker interference detected!
Wikia is a free-to-use site that makes money from advertising. We have a modified experience for viewers using ad blockers

Wikia is not accessible if you've made further modifications. Remove the custom ad blocker rule(s) and the page will load as expected.