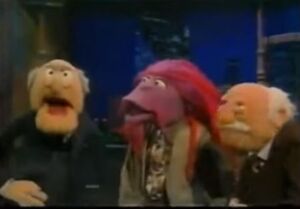 Step by Step is a sitcom which aired on ABC from 1991 until 1997 (and for a final season, 1997-1998, on CBS, with fellow ABC expatriate Family Matters). It focused on two single parents of multiple kids who remarried (as a sort of rowdier The Brady Bunch).
References
Muppet Mentions
In the second season episode "To B or Not to Be," Frank and JT are performing a scene from Hamlet in the kitchen. After the performance, Dana remarks "Yeah, I didn't know Bert and Ernie did Shakespeare". Cody answers, "I'm not surprised, Bert's a very versatile actor". Mark says "Cody, Bert is a sock!"
Connections
Ad blocker interference detected!
Wikia is a free-to-use site that makes money from advertising. We have a modified experience for viewers using ad blockers

Wikia is not accessible if you've made further modifications. Remove the custom ad blocker rule(s) and the page will load as expected.