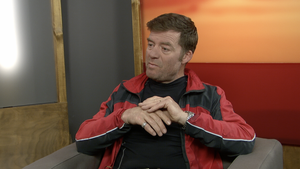 Steinn Ármann Magnússon (b.1964), an actor/entertainer who voiced Bert on Hopp og hí Sessamí and Ævintýri Berta og Árna, the Icelandic dubs of Play with Me Sesame and Bert and Ernie's Great Adventures.
Some of his movie credits include Vernhardur in Hross í oss, Einar skakki in Svartur á leik and Skúli Hrímfjörð in Einkalíf
In the recent years, he has openly talked about his former alcohol abuse and how he decided to change his lifestyle. He's also working as a mountain bike guide in Reykjavik.