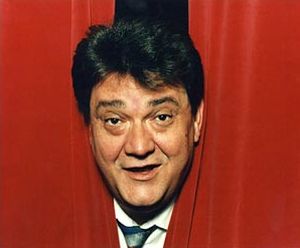 Stefan Ljungqvist (b. 1948) voiced Marjory the Trash Heap and others on Fragglarna, the Swedish dub of Fraggle Rock.
In 1968, Stefan Ljungqvist started to play music for a living. It did not take that long for him to get noticed by other Swedish folk singers and they took him with them on various tours. In 1970, he got his theater debut and in 1972 he started at the University College of Opera in Stockholm. When he graduated three years later, he was offered a job at Mozarteum University of Salzburg, but he decided to decline the offer. One of the reasons of his rejection was that his career as a folk singer started to take off in Sweden. During the 1970's he released three albums and was hired by the theater in Borås. In 1979, he got a role in the TV mini series Mor gifter sig; that role led on to 5 seasons of the mini series Polisen i Strömstad.
His theater credits include Alfred P. Dolittle in My Fair Lady, Tevye in Fiddler on the Roof, Ebenezer Scrooge in a musical of A Christmas Carol and Guys and Dolls. Voice credits include governor John Ratcliffe in Pocahontas, Dr. Jumba Jookiba in Lilo and Stitch and Atlantis - The Lost Empire.
External links