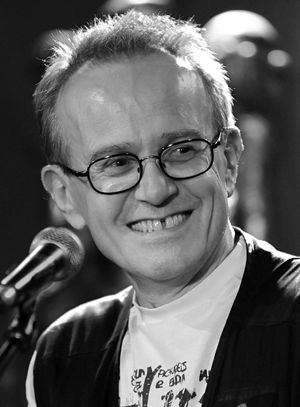 Stefan Krause (b. 1958) is a German voice actor who dubbed Bean Bunny in Das Hasenpicknick (Tale of the Bunny Picnic) and Rugby Tiger in Die wundersame Geschichte vom Weihnachtsspielzeug (The Christmas Toy). He also dubbed additional voices in Muppets Most Wanted and Michaelangelo in Teenage Mutant Ninja Turtles and Teenage Mutant Ninja Turtles II: The Secret of the Ooze..
Krause frequently dubs Paul Giamatti (alternating with Lutz Schnell) and was the German voice of Billy Boyd in The Lord of the Rings movies. He also dubbed Mackenzie Crook in the Pirates of the Caribbean movies, Toby Jones in The Hunger Games movies, John Hawkes in The Sessions and Lincoln (and others), Dana Carvey in the Wayne's World movies, Ken Jeong in Knocked Up, Matthew Lillard in SLC Punk!, Kenneth Branagh in Celebrity, Oliver Platt in Flatliners, and Eddie Deezen in 1941.
In animation, he dubbed Speedy Gonzales in video games and The Looney Tunes Show, Fiver in Watership Down, Peter Venkman on The Real Ghostbusters, Toad on The Wind in the Willows, Rufus the naked mole rat on Kim Possible, and Huey on DuckTales. Video games include the Assassin's Creed franchise and The Book of Unwritten Tales 2 (as Anton).
External links
Ad blocker interference detected!
Wikia is a free-to-use site that makes money from advertising. We have a modified experience for viewers using ad blockers

Wikia is not accessible if you've made further modifications. Remove the custom ad blocker rule(s) and the page will load as expected.