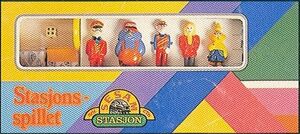 Stasjonsspillet is a 1991 Sesam Stasjon game, in which players remove plastic pvc figurines to get to the train stasjon first. The game included a gameboard, traincards and 5 pvc character figurines including: O. Tidemann, Max Mekker, Bjarne Betjent, Leonora Dorothea Dahl and Alfa.
The ISBN number is 8205192510.
See also
Ad blocker interference detected!
Wikia is a free-to-use site that makes money from advertising. We have a modified experience for viewers using ad blockers

Wikia is not accessible if you've made further modifications. Remove the custom ad blocker rule(s) and the page will load as expected.