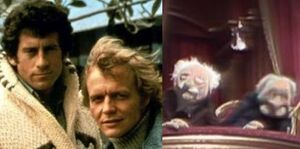 Starsky & Hutch was a TV police drama focusing on a pair of detectives, with an emphasis on fast cars and shooting. The series ran from 1975 until 1979 and later inspired a 2004 film (with Ben Stiller). When the show was still new, it was mentioned multiple times in early seasons of The Muppet Show.
References
Connections
Ad blocker interference detected!
Wikia is a free-to-use site that makes money from advertising. We have a modified experience for viewers using ad blockers

Wikia is not accessible if you've made further modifications. Remove the custom ad blocker rule(s) and the page will load as expected.