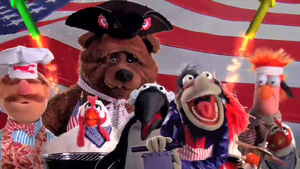 "Stars and Stripes Forever" is one of the most popular compositions of American composer John Philip Sousa. It is a march frequently used in 4th of July celebrations and parades.
PerformancesEdit
More recently, the piece was featured prominently in the first of several online viral videos posted by the Muppets to YouTube, MySpace and Vimeo.
ReferencesEdit
In a Facebook post dated September 29, 2011 on his fan page, Fozzie Bear posted, "Ooh, I've got one! What do you get when you cross a zebra with a guy swinging from vines? Tarzan Stripes Forever! Wocka Wocka!"