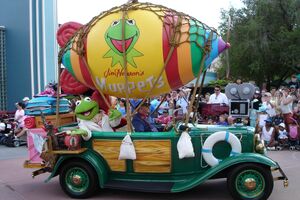 Disney's Stars and Motor Cars Parade was an attraction at the Disney-MGM Studios (now known as Disney's Hollywood Studios) in Walt Disney World.
The parade, which made its debut on October 1, 2001, and closed on March 8, 2008 , featured cars driven by some of the most famous characters from Disney's movies and theme parks.
The Muppets' car "floated" with a giant blimp above it. Kermit and Miss Piggy rode in the car, dressed as glamorous movie stars, and Sweetums followed on foot, greeting the spectators.
The Playhouse Disney car featured characters from the Disney Channel programming block, including Bear in the Big Blue House characters Bear and Treelo.
See also
Links
Ad blocker interference detected!
Wikia is a free-to-use site that makes money from advertising. We have a modified experience for viewers using ad blockers

Wikia is not accessible if you've made further modifications. Remove the custom ad blocker rule(s) and the page will load as expected.