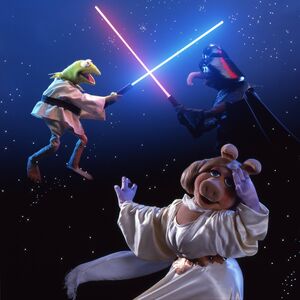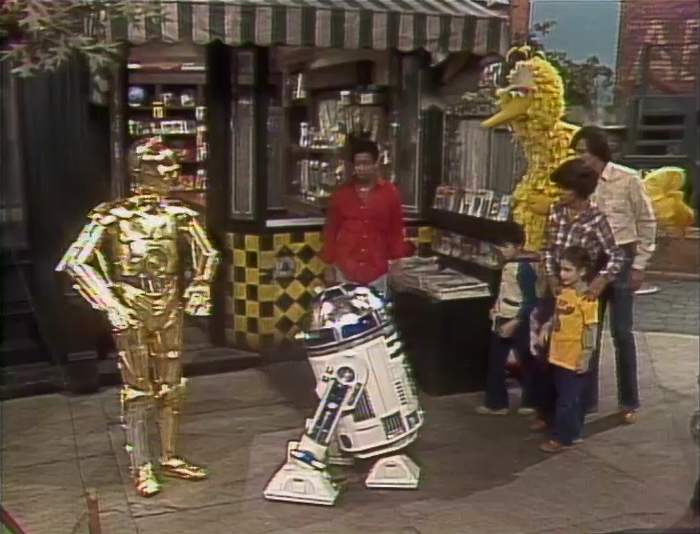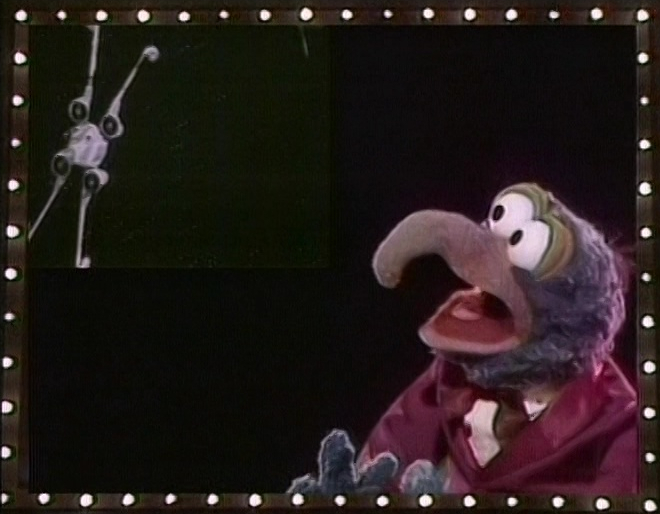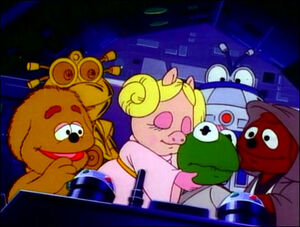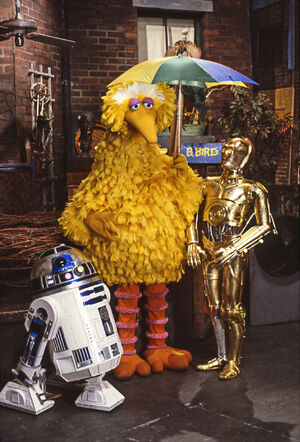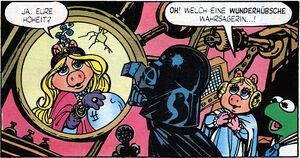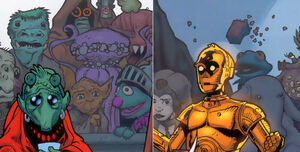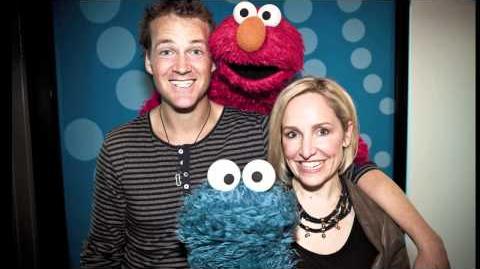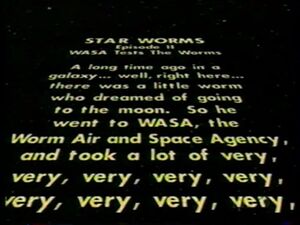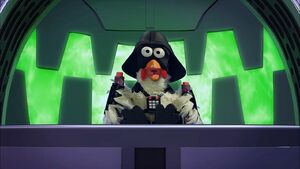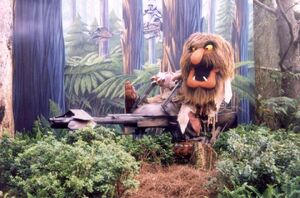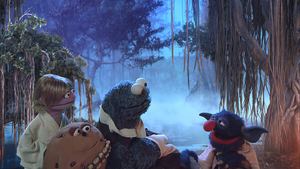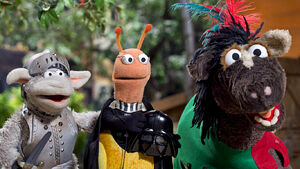 Star Wars is a science fiction franchise beginning in 1977 that consists of movies, TV shows, books, comic books, and a wealth of merchandise and other spin-offs. There are many connections between Star Wars and The Muppets, perhaps most notably the presence of Frank Oz's Star Wars character Yoda, who has often been misidentified as a Muppet. The properties are both owned by The Walt Disney Company; The Muppets were purchased in 2004, and Star Wars in 2012.
In an interview with Leonard Maltin, George Lucas discussed the creation of Yoda:
"

I went to Jim [Henson] and said, 'Do you want to do this?' And he said, 'Well, I'm busy, I'm doing this, and doing that, I'm making a movie and all that -- I really can't, but... how about Frank? You know, Frank's the other half of me.' And I said, 'Well, that'd be fantastic.'[1]

"
Oz performed Yoda in The Empire Strikes Back, Return of the Jedi, and The Phantom Menace. Starting with Attack of the Clones, the Yoda character was realized using computer animation. Oz voiced him in Attack of the Clones, Revenge of the Sith, and in the Star Tours: The Adventures Continue ride. The Yoda puppet was built by many veteran Henson designers who would go on to form the basis of Jim Henson's Creature Shop. In 1986, Lucas served as an executive producer on Henson's Labyrinth.
In 1999, an interviewer made the comment to Frank Oz, "There seemed to be a kind of natural synergy between Star Wars and the Muppets almost immediately," to which he replied in detail:
"

I think that's true. Certainly, they both had the vitality and purity and joy and dreaming, and there's certainly geniuses behind both of them. George and Jim worked together on Labyrinth, and I think that which got them together was that synergy. There was an awareness and an appreciation. They are both very unique individuals, and I think they both wanted to work with each other, because they were very similar - very smart, very quiet, very strong people.[2]

"
Guests
References
The Muppets
A photo of the backstage bulletin board on the back of The Muppet Show 2 LP features a paper cut-out of a stormtrooper from Star Wars.
In 1980, ITC Distribution France released a poster print (and later, postcards) of the Muppet characters in a Star Wars spoof titled, "La Guerre des Muppets" (Muppet Wars). The scene is a take on the "Style A" theatrical one-sheet for the 1977 film with Kermit as Luke Skywalker, Miss Piggy as Princess Leia, Gonzo as Darth Vader, Fozzie Bear as C-3PO and Lew Zealand as R2-D2.
Miss Piggy and Beauregard go on the Star Tours ride in the 1990 special The Muppets at Walt Disney World.
In the 1999 film Muppets from Space, the Cosmic Fish bid farewell to Gonzo saying "May the Fish be with you," a reference to Star Wars' famous line, "May the Force be with you."
At the beginning of the commentary track for Muppets from Space, Kermit leaves to get popcorn and doesn't return until the end of the movie (Steve Whitmire plays Rizzo throughout the majority of the commentary track). Upon his return, he explains that he went back into the wrong movie. "I was halfway through it before I realized that wasn't Gonzo. It was Jar Jar Binks!"
For the July 2008 Star Wars Weekends in Walt Disney World, a set of six PVC figures were released featuring the Muppets as Star Wars characters.
During their November 17, 2011 appearance on Good Morning America, Lara Spencer asks the Muppets to weigh in on the Star Wars vs Star Trek faux-feud between William Shatner and Carrie Fisher. Pepe comments "I like Star Tours. Its a great ride."
In "Little Green Lie", Robin tells Kermit that his Chewbacca action figure got left on a dashboard and melted in the Sun. Later, Fozzie says "Luke, I am your father."
Sesame Street
When the "Slimey to the Moon" episodes were rerun during the end of 1999, they were billed as "STAR WORMS" and open with a text crawl (narrated by Baby Bear) based on the ones that open each Star Wars film.
In a 2010 episode of Sesame Street, Virgil Von Vivaldi presents a limestone rock with a lute for his "rock" band. He tells the rock: "Use the force, lute."
In the "Super Grover 2.0" sketch "The Cart Before the Horse," Super Grover 2.0 tries to find a force big enough to move a cart with a horse in it. During the sketch, he uses many lines from Star Wars involving "The Force," such as, "The force is strong in this one" and "Use the force."
In the Once Upon a Monster level "Seamus the Brave," the monsters put on a play by Seamus called The Emperor's New Clothes 2: The Emperor Talks Back.
In the "Elmo the Musical" segment, "Pizza the Musical," Elmo is confronted by a space chicken (referred to at New York Comic-Con as "Darth Chicken," played there by John Tartaglia), who wears a Darth Vader-esque outfit and pilots an egg-shaped Death Star. In the online game version of the segment, Elmo encounters a different space chickens operating toll booths. The chicken dons different disguises, including a Darth Vader outfit, a Stormtrooper uniform and Boba Fett.
International Sesame Street
Muppet Babies
Nanny Vader is one of several babysitters the babies imagine will take care of them when Nanny goes away in "Around the Nursery in 80 Days". Using footage from the Star Wars movies, Nanny Vader recruits the babies as stormtroopers aboard an Imperial Star Destroyer where they receive training in how to wield a lightsabre. Outside of their imaginations, it's revealed that Baby Animal has been standing in for Nanny Vader wearing a Darth Vader helmet.
A more elaborate spoof occurred in "Muppet Babies: The Next Generation", with Baby Gonzo as Gon Zolo, Baby Fozzie as Fozz-Wocka, Baby Animal as Yodie and Animal Vader, Baby Scooter as R2-D2 and Baby Skeeter as C-3PO. Footage from Star Wars has also been used in other episodes, for example, when a character opens a door to reveal a threatening danger. A clip of a TIE-fighter chasing an X-Wing can also be seen in the opening credits of each episode.
Other
A commonly referenced number by George Lucas is 1138, first used in a short film he made in college which became THX 1138. The number is closely associated with Star Wars.
Muppet Mentions
Merchandise
Connections
In addition to Frank Oz and the aforementioned guests, many puppeteers, designers, and actors have worked in the Star Wars franchise as well as in Muppet/Henson productions.
Sources
External links
Ad blocker interference detected!
Wikia is a free-to-use site that makes money from advertising. We have a modified experience for viewers using ad blockers

Wikia is not accessible if you've made further modifications. Remove the custom ad blocker rule(s) and the page will load as expected.