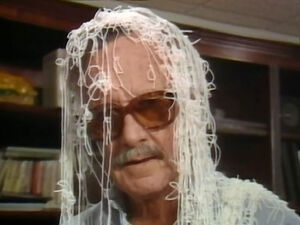 Stan Lee (b. 1922) is a famed comic book writer, editor, and the long-time face of Marvel Comics. Lee, in collaboration with such artists as Jack Kirby and Steve Ditko, was responsible for the creation of Spider-Man, The Incredible Hulk, the Fantastic Four, and most of the other superheroes popularized by Marvel Comics. His distinctive promotional patter, in editorials and comic covers, exhorted readers ("true believers") to look inside, and often ended with the phrase "Excelsior!" In later years, he frequently narrated, hosted, or made cameo appearances in television and film adaptations of Marvel comics.
Lee appeared in the 1989 Muppet Babies episode "Comic Capers." After Baby Rowlf and Skeeter enter the Spider-Man newspaper strip, Lee appears, hovering over a drawing desk, and takes the kids to task: "Don't you know there's only one Spider-Man?" Rowlf is apologetic ("Sorry, Mr. Lee"), but Skeeter accidentally releases a stream of webbing at Stan, coating his head with it.
Ad blocker interference detected!
Wikia is a free-to-use site that makes money from advertising. We have a modified experience for viewers using ad blockers

Wikia is not accessible if you've made further modifications. Remove the custom ad blocker rule(s) and the page will load as expected.