Stan Freberg
Talk

3
27,667pages on
this wiki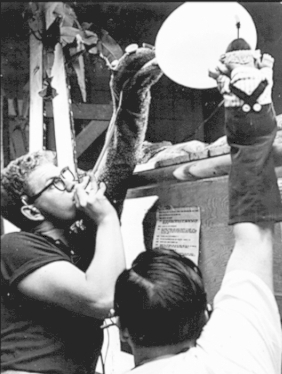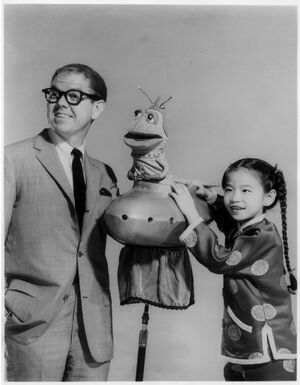 Stan Freberg (b. 1926) is a satirist, voice actor, puppeteer, and advertising man. Freberg began his career as a voice actor for Warner Bros., playing Baby Bear, Pete Puma, and other characters in Looney Tunes cartoons. In the early days of television, he puppeteered Cecil the Sea-Sick Sea Serpent and Dishonest John on Bob Clampett's Time for Beany. Freberg hit his stride in the 1950s with a string of successful comedy records spoofing recent music trends and a 1957 radio series The Stan Freberg Show. Freberg has often been cited as an influence on Jim Henson's work, and Sam and Friends frequently used his recordings. Known sketches utilizing Freberg records include "Under My Skin," "C'est Si Bon," and "The Yellow Rose of Texas."
Freberg, after having seen one of the Sam and Friends skits based on his recordings, sent Henson a telegram:[1]
=JIM HENSON AND JANE NEBEL AND ALL MUPPETS:
=DON'T PHONE, DLR BY 10 PM NBC TV WASHDC=
=I TAKE IT ALL BACK AM OUTRAGED TIME RAN OUT AND DID NOT GET TO SAY THIS IS ONE OF THE GREATEST ACTS I HAVE EVER SEEN. AM HONORED TO LET YOU USE MY RECORDS FOR EVER AND LONGER. LOVE AND KISSES TO ALL. THOSE SUITS WILL COME BACK SAM, YOU?LL SEE=
=STAN FREBERG=
Freberg appeared in an episode of Sam and Friends. Freberg popped up into frame and criticized the Muppets for doing his records on The Ed Sullivan Show without giving him credit. Kermit says "here's a little credit" and proceeded to beat Freberg out of frame with a mallet. While in the studio, Freberg taught Jim Henson, Jane Henson and Frank Oz how to make Kermit smile.[2]
As both Henson and Freberg went into advertising, they occasionally shared clients, most notably Esskay Meats. The comic song "Money," co-written by Freberg with Ruby Raskin, was later performed on The Mike Douglas Show and on The Muppet Show episode 106.
In a 2006 blog, Freberg's son Donavan recalled meeting Henson at an Emmy Award broadcast when he was 8 years old, where Freberg was performing his moon man character Orville and Henson puppeteering Kermit. According to Donavan Freberg, Henson "smelled like powdered donuts." [3] As a footnote, assorted Web sites and television reference books have referred to Stan Freberg's Orville character as Grover. It is unclear whether the name was actually used in any appearances, however.
References
↑ The original telegram is held at The Jim Henson Company Archives.
External links