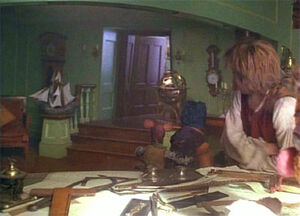 Squire Trelawney & Son: Master Ship Builders is a firm which supplies nautical vessels in Muppet Treasure Island. Located in Bristol, the business is owned by Squire Trelawney Sr. but manned in his absence by Young Squire Trelawney and Mr. Bimbo. The firm finances Jim Hawkins' proposed voyage and supplies one of its ships, the Hispaniola, as the vessel. Dr. Livesey is employed by the company as head of research and development.
Ad blocker interference detected!
Wikia is a free-to-use site that makes money from advertising. We have a modified experience for viewers using ad blockers

Wikia is not accessible if you've made further modifications. Remove the custom ad blocker rule(s) and the page will load as expected.