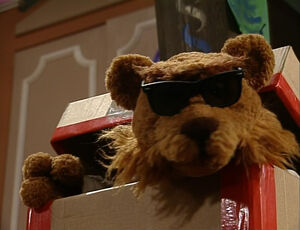 Spy Guy
is a shifty teddy bear spy that appeared in an episode of
The Secret Life of Toys
.
Spy Guy comes with a wide range of disguises (including a Raisin wig, Ditz' hat, and a complete Balthazar costume). He imitates other toys' voices fluently.
When Penny and Simon decide to return Spy Guy to the store - they did not expect him to be a bear - he tries to switch places with Balthazar in order to stay in the playroom.
The puppet of Spy Guy was used in other episodes as a younger version of Balthazar, in flashback sequences.