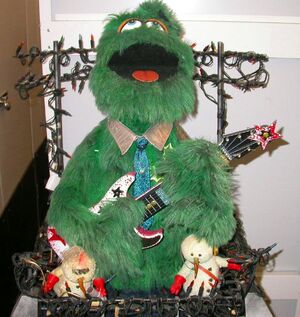 Spruce Springsteen was a Muppet created to be auctioned off for the Night of 100 Trees. Auctioned off in 1988, the Muppet is a Christmas parody of Bruce Springsteen.
The base was designed by freelancer Karl Wendelin, and featured pictures of the Muppets as musical celebrities from Muppet Magazine, including Kermit as Michael Jackson and Bruce Springsteen, Miss Piggy as Madonna and Janice as Tina Turner.
The piece also includes three small snowmen, which are rebuilt Doozers, flocked and painted for the occassion. A tag signed by Jim Henson was sewn into the Muppet after completion.
See also