Ad blocker interference detected!
Wikia is a free-to-use site that makes money from advertising. We have a modified experience for viewers using ad blockers

Wikia is not accessible if you've made further modifications. Remove the custom ad blocker rule(s) and the page will load as expected.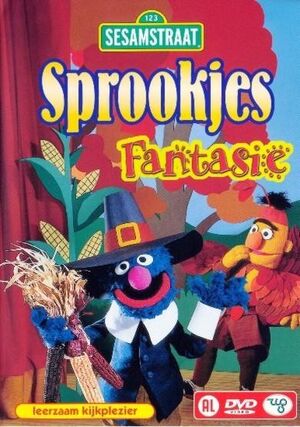 Sprookjes/ Fantasie (Fairytales/ Imagination) is a DVD release of Sesamstraat, the Dutch co-production of Sesame Street. The DVD was previously released on two videotapes.
The DVD contains a sixty minute compilation of insert clips from the Dutch episodes and American clips dubbed to Dutch. The first half focuses on fairytales. The second half focuses on imagination.
This DVD was the sixth Sesamstraat DVD produced by Weton Wesgram (SESDV006) in a series of Sesamstraat compilation DVDs.
Segments
Fairytales
Hans & Grietje: Deel 1 (Hansel & Gretel: Part 1)
Roodkapje (Little Red Riding Hood)
Hans & Grietje: Deel 2 (Hansel & Gretel: Part 2)
Magische 2 (Magical 2)
Weet je Wat Ik Wou? (Do You Know What I Wish?)
Hans & Grietje: Deel 3 (Hansel & Gretel: Part 3)
Paddestoel (Mushroom)
Sneeuwwutje (Snow White)
Draak (Dragon)
De Schone Snurkster (Sleeping Beauty Snores)
Bij de Rovers (At the Robbers)
Grote Boze Wolf (The Big Bad Wolf)
Het Bomen Lied (The Tree Song)
Ieniemienie Vertelt een Verhaal (Ieniemienie Tells a Story)
Imagination
Boot (Boat)
In Mijn Boek Lied (In My Book Song)
Boer Oscar (Farmer Oscar)
Fantasie (Imagination)
Denk Aan Iets Leuks (Think Happy Thoughts)
Arnold
Het Fantasiespel (The Imagination Game)
Schommel (The Swing)
De Toverdoos (The Magic Box)
Als De Maan Een Koekje Was ("If Moon Was Cookie")
Magisch Varken (The Magic Pig)
Cowboy
Jongensland (Boyland)
Bergbeklimmer (Mountain climber)