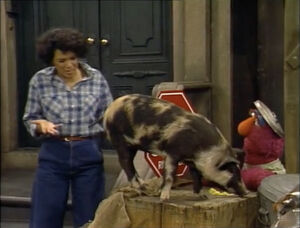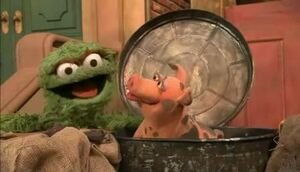 Spot is a pig that lives inside Oscar's trash can.
He appeared on Sesame Street in a 1985 episode, where he was played by a live pig. However, later on Spot was portrayed by a Muppet. In a 1993 episode he was seen one of the animals making noise to help Oscar forget the "Sesame Street Theme" that lingers in his head.
Although not featured on screen, in a 1998 episode Spot was said to be lamenting the absence of fellow-pet Slimey (who went to the moon); and he was heard using a jackhammer to help get Curly Bear to take her nap in a 2004 episode.
Spot re-appeared on camera in a 2008 episode where he received a mud bath from Mike Rowe.
See also
Ad blocker interference detected!
Wikia is a free-to-use site that makes money from advertising. We have a modified experience for viewers using ad blockers

Wikia is not accessible if you've made further modifications. Remove the custom ad blocker rule(s) and the page will load as expected.