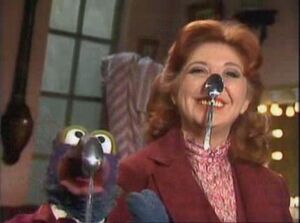 Spoon hanging is the skill of hanging a spoon from one's nose. In episode 409 of The Muppet Show, Gonzo claims to have invented the art form and believes it's a bigger cultural breakthrough than opera. He convinces guest Beverly Sills to join in, which drives her fan Sam the Eagle away from her dressing room.
Other instances of spoon hanging include a Honker in a season 39 episode of Sesame Street and Elmo and Abby Cadabby in Learning is Everywhere. It is also taught in Neat Stuff To Know & To Do. A dad demonstrates it in the Dinner Theatre sketch, "Man of La Muncha."
Ad blocker interference detected!
Wikia is a free-to-use site that makes money from advertising. We have a modified experience for viewers using ad blockers

Wikia is not accessible if you've made further modifications. Remove the custom ad blocker rule(s) and the page will load as expected.