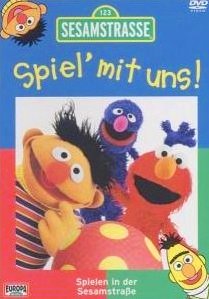 Spiel' mit uns! is a Sesamstrasse video.
Segments
Wer, wie, was
Abwechseln
Elma spielt Wubbaball (Elmo plays Wubba Ball)
Ernies Ratespiel
Elma als Briefträgerin
Mona als Baum (Ernie and Bert: Pretending to be a Tree)
Elmo und Telly spielen Zweikopfmonster (Elmo and Telly: Two-Headed Monster School)
Oskar sagt... (Scene from an unknown Sesame Street episode)
Das Gegenteilspiel
Super Grobi: Elmo hebt ab (Super Elmo)
Wie spielt man Kuckuck?
Fröhlich und traurig
Schwer und leicht
Richtig klopfen
Jungs und Mädchen
Bert bringt Taube Betty Damespielen bei
Das Null-Spiel
Das Wetterspiel
Bauer Oscar (Scene from Episode 2931 of Sesame Street)
Elmas neues Spiel - Wer, wie,was
Ad blocker interference detected!
Wikia is a free-to-use site that makes money from advertising. We have a modified experience for viewers using ad blockers

Wikia is not accessible if you've made further modifications. Remove the custom ad blocker rule(s) and the page will load as expected.