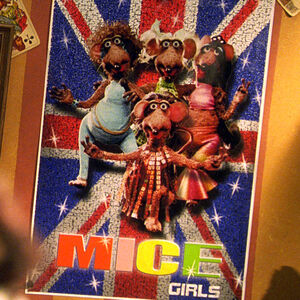 The Spice Girls were a British all-girl pop group formed in 1994. The group featured four women using stage names: Melanie Brown ("Scary Spice"), Melanie Chisholm ("Sporty Spice"), Emma Bunton ("Baby Spice"), and Geri Halliwell ("Ginger Spice").
They were spoofed in Muppets from Space as the "Mice Girls" on a poster in Rizzo's room that he uses as motivation for his workout.
Ad blocker interference detected!
Wikia is a free-to-use site that makes money from advertising. We have a modified experience for viewers using ad blockers

Wikia is not accessible if you've made further modifications. Remove the custom ad blocker rule(s) and the page will load as expected.