This article is about an upcoming project, product, or production.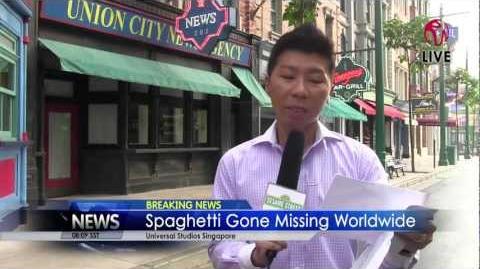 Sesame Street Spaghetti Space Chase is an upcoming attraction at Universal Studios Singapore, scheduled to open before the end of 2012. The attraction is a dark ride and will be located at the New York zone, in the Universal Theater building. The ride uses a similar operating system to E.T. Adventure at Universal Studios Florida (and formerly Universal Studios Hollywood).
Synopsis
A worldwide spaghetti abduction crisis has been reported in the news, the latest target being Sesame Street. The evil Macaroni the Merciless and his henchmen Zester and Shredder are the culprits behind the epidemic. Elmo and Super Grover (in his 2.0 incarnation) are called on to retrieve all the missing spaghetti from Macaroni.
Development
Sesame Street had been part of Universal Studios Singapore's original plans since its earliest development stages, but was set aside in favor of attractions with more marketing power, according to USS executive designer Kevin Barbee. [1] Sesame Street 4-D Movie Magic was on the list of proposed attractions, but later rejected. [2]
Rumors of a Sesame Street / Elmo-themed dark ride began circulating on February 17, 2012, first reported on theme park insider Screamscape's website. [3] On May 24, Resorts World Sentosa/Universal Studios Singapore announced that in addition to live shows and character meet-and-greets, they would be opening a new Sesame Street ride by the end of 2012. Andrea Teo, vice-president of Entertainment at Resorts World Sentosa, said of the upcoming attraction during the press conference on that day: "I think it's a very unique ride. It's got the same Sesame Street kind of humour, it's a bit wacky, it's a bit way-out-there, it'll make you laugh and because it's a ride, it also gives you a bit of a thrill (and) adventure." [4]
The entrance to the Universal Theater building, originally intended for the unfinished Stage 28 attraction, had a Sesame Street facade that appeared as of May 28. As of August, the building was covered by an illustrated construction wall, hinting at the plot of the upcoming ride.
Sources
External links