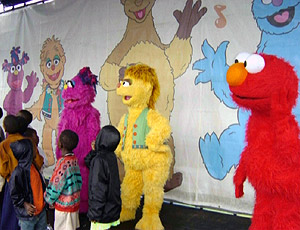 South Africa is a country in the southern region of the African continent.
Sesame Workshop developed a Sesame Street co-production for the country, Takalani Sesame. This process was featured in the documentary, The World According to Sesame Street. The series made international headlines in 2002 when the show introduced Kami, an HIV-positive Muppet character. Other South African Muppets include Moshe, Zikwe, Kupukeji and Zuzu.
In 2005, a German BMW commercial with Kermit the Frog was shot in Calvinia, a regional town in the Northern Cape province of South Africa.
On Sesame Street, Global Grover made a visit to the country and learned how to make toy cars out of scrap wire.
Ad blocker interference detected!
Wikia is a free-to-use site that makes money from advertising. We have a modified experience for viewers using ad blockers

Wikia is not accessible if you've made further modifications. Remove the custom ad blocker rule(s) and the page will load as expected.