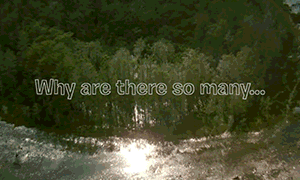 Crooned from a seemingly insignificant log in an otherwise normal swamp at the beginning of The Muppet Movie, one of the most enduring questions in Muppet history is asked, "Why are there so many songs about rainbows...?" The opening lines of "The Rainbow Connection", as sung by Kermit the Frog, take on an allegorical meaning left open to interpretation, but the question has sometimes been asked literally.
In The Muppet Show episode 509, Kermit and guest star Debbie Harry entertain a small number of examples before partnering up on their rendition of "The Rainbow Connection". The following is a list of songs about rainbows as performed by or connected to the Muppets.
"Nearly Missed" — Susan, Barbara Eden, Rosie O'Donnell, and Elmo are amongst those who "nearly missed the rainbow."
"Over the Rainbow" — The other famous rainbow song from The Wizard of Oz performed by Robin the Frog, and by Miss Piggy as part of a medley.
"Nature's Family" — Rainbows are amongst those things Big Bird identifies as what connects us to nature.
"Just Three Colors" — Big Bird and Oscar sing about how the three primary colors make up all the hues of the rainbow.
"Reading Rainbow Theme" — Kermit appears on the PBS series whose theme played before all 155 episodes.
Abelardo, Pancho, and Lola sing about colors of the rainbow in Episodio 797.
"Windy" — "Who's bending down to give me a rainbow..."
Bert and Ernie sing "De Regenboog (The Rainbow)" on several Sesamstraat albums.
A boy sings about fruits in all the colors of the rainbow in a Sesamstraat song.
"I'm So Blue" - "I'm a blue bird, that's been dreaming, of a rainbow I can follow..."
Ad blocker interference detected!
Wikia is a free-to-use site that makes money from advertising. We have a modified experience for viewers using ad blockers

Wikia is not accessible if you've made further modifications. Remove the custom ad blocker rule(s) and the page will load as expected.