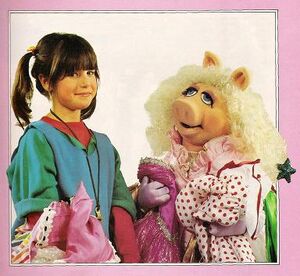 Soleil Moon Frye (b. 1976) is an actress who began her career as a child, starring on the sitcom Punky Brewster (1984-1988, opposite George Gaynes). Later credits, as a teenager and adult, include guest spots on The Wonder Years, The Proud Family and Friends and a regular role on Sabrina the Teenage Witch.
In 1985, a young Frye, fresh from Punky Brewster, was featured in Muppet Magazine issue 12. She appeared on the cover and in the four page feature story "Punky & Piggy," trying on Halloween costumes with Miss Piggy.
Her Muppet love has not abated with time: since giving birth in 2005, Frye's exercise regimen involves "constantly running after [daughter Poet]! And we do dance parties in the bedroom, so a lot of our exercises are about putting on Elmo and dancing to Elmo's World."[1]
Sources
↑ Frohmm, Amy. "How Motherhood Changed Me." People online, June 4, 2007
External links
Ad blocker interference detected!
Wikia is a free-to-use site that makes money from advertising. We have a modified experience for viewers using ad blockers

Wikia is not accessible if you've made further modifications. Remove the custom ad blocker rule(s) and the page will load as expected.