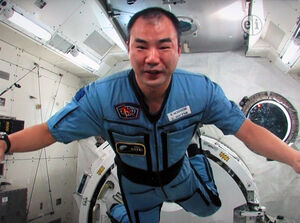 Soichi Noguchi (b. 1965) is an astronaut for the Japan Aerospace Exploration Agency. His maiden space voyage was with NASA aboard the space shuttle Discovery in July 2005; the first mission after the Columbia disaster in February 2003.
As a member of the Soyuz TMA-17 crew on Expedition 23 to the International Space Station, Noguchi filmed a Sesame Street segment for Episode 4214. Aboard the ISS, he presents the letter F as standing for "float" and proceeds to demonstrate a lemon, his socks and a fabric globe floating in zero gravity. (YouTube)
A segment was also filmed for "What's the Word on the Street?" in Episode 4222. Noguchi "interacts" with Murray Monster and describes what the word "float" means. Demonstrating the lack of gravity in his environment, he floats a lemon and a goblet of juice in front of the camera.
In Episode 4225, he presents the letter A for astronaut. This segment includes footage of the Earth shot from the space station window. (YouTube)
Another segment filmed for the season features Noguchi counting down in a split-screen shot showing a space shuttle lifting off on the right side of the screen. When he reaches lift off, Noguchi propels himself upward in zero gravity. (YouTube)