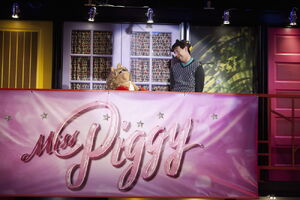 So Random! is a Disney Channel series which originally debuted in 2009 as Sonny with a Chance, a traditional sitcom about a girl who becomes the latest cast member of her favorite sketch comedy series, So Random! In 2011, series star Demi Lovato chose to leave the series, and it was retooled to highlight the show-within-a-show So Random!, a Saturday Night Live-esque variety/sketch-comedy show with celebrity and musical guests.
Miss Piggy was the celebrity guest on the episode which aired October 2, 2011. In the episode, everyone in the cast wanted to be in a sketch with Miss Piggy, and they each tried to win her over. Ultimately, Piggy appeared as Rapunzel in one of the show's recurring sketches, "The Real Princesses of New Jersey" a spoof of The Real Housewives of New Jersey.
Muppet Mentions
Connections
Ad blocker interference detected!
Wikia is a free-to-use site that makes money from advertising. We have a modified experience for viewers using ad blockers

Wikia is not accessible if you've made further modifications. Remove the custom ad blocker rule(s) and the page will load as expected.