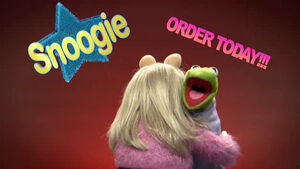 The Snuggie is a popular brand of sleeved blankets, launched in 2008. The product is a blanket with sleeves for one to wear.
References
In The Muppets Kitchen with Cat Cora episode "Slumber Party", Angelo shows a commercial for the "Snoogie." The commercial, starring Kermit, boasts that the product has only one hole (for the head). Kermit doesn't seem able to get out of it, however, and is forced to be cuddled by the product's creator, Miss Piggy.
See also
Ad blocker interference detected!
Wikia is a free-to-use site that makes money from advertising. We have a modified experience for viewers using ad blockers

Wikia is not accessible if you've made further modifications. Remove the custom ad blocker rule(s) and the page will load as expected.