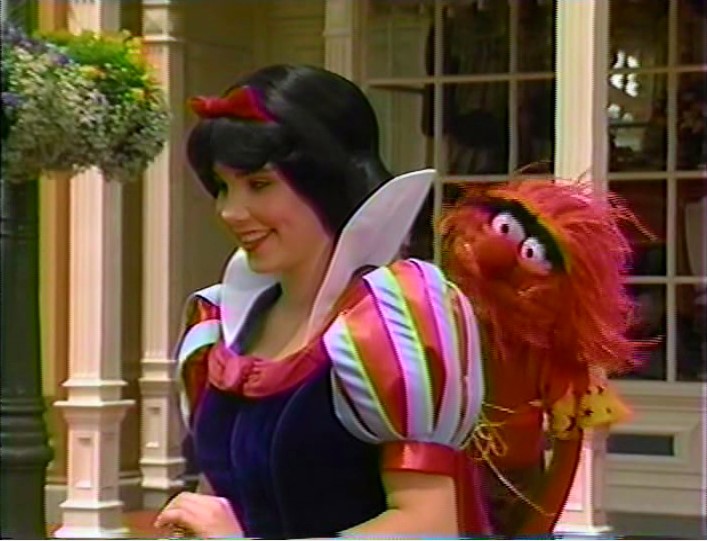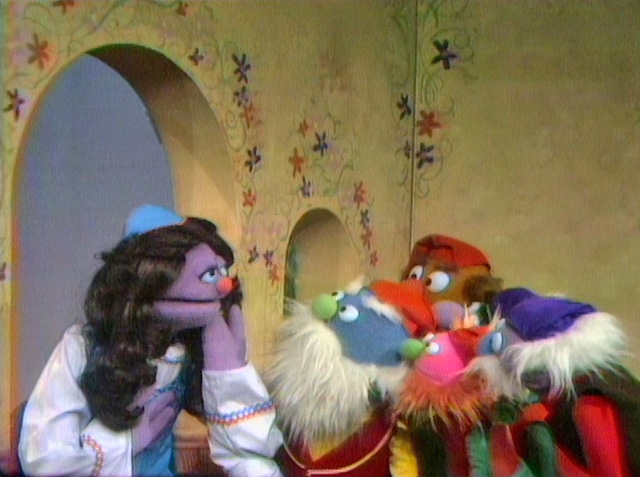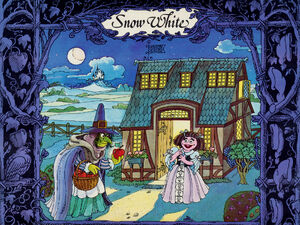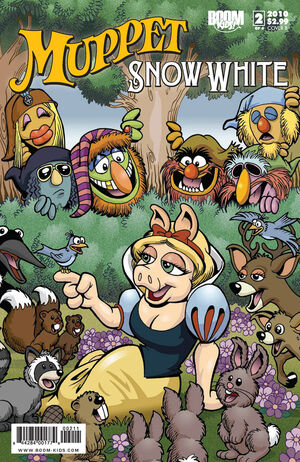 Snow White is the title character from a European fairy tale, most commonly associated with the Brothers Grimm. Several versions of the story have been told and retold over the years, but the most popular is Disney's 1937 feature film, Snow White and the Seven Dwarfs, which first gave the Seven Dwarves distinct personalities and names.
Muppet Characters
A 1971 Sesame Street segment featured Snow White visiting the home of the six dwarves. She had to count the dwarves a number of times before she was convinced that she had the wrong house. (EKA: Episode 0279)
References
Another Sesame Street News Flash segment features Kermit interviewing a witch who asks her mirror on the wall who is the fairest of them all -- a direct reference to the Snow White story. (EKA: Episode 0685)
In yet another Sesame Street News Flash, Kermit the Frog and Count von Count encounter the house of the seven dwarves. After an interview with the Three Little Pigs gets interrupted by the Count's ceaseless counting, Kermit tries moving on to the next house. But once the Count realizes that the "one little person" who answers the door is one of the Seven Dwarves, he quickly bursts into their home and delights in counting them. (EKA: Episode 0758)
In The Great Santa Claus Switch, Lothar comes out of a steaming cauldron and is told by Cosmo Scam to tell him what he wants to hear. Lothar jokes that he wants to know who is the fairest of them all, another reference to the Mirror on the Wall from the Snow White story. Later in the special, when Cosmo has lost Santa's reindeer, he tries to get them back by calling them Doc, Grumpy, Sneezy and Dopey.
In Sesame Street episode 4114 in Season 37, Amy Sedaris plays Snow White, opposite Elmo. This Snow White is frustrated as her dwarves leave for other engagements.
On Sesamstrasse, Wolle and Pferd did a sketch were Wolle was the queen and Pferd the magic mirror that was very wavering about who was the most beautiful in the country.
In Follow That Bird, Big Bird wants to play make believe with Donny and Marie Dodo, suggesting that Big Bird can be Snow White, and the Dodos can be the seven dwarves.
In the Abby's Flying Fairy School online game, "Sleeping Bloggy", Abby brings the poison apple for show and tell and claims Snow White is her babysitter.
Statler and Waldorf shouted "We want Grumpy!" at the end of the Muppets' appearance in the Disney Movie Magic presentation at the 2009 D23 Expo.
In a Plaza Sésamo insert, Modesto Microfono goes to interview "Blancanieve" (portrayed by Lola), but after finding she has nine of everything instead of seven, he learns she's actually "Blancanueve."