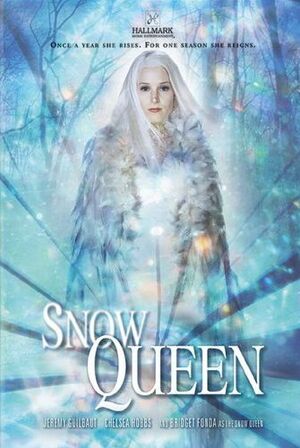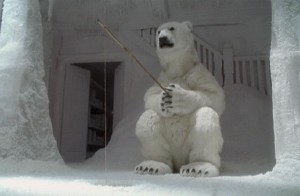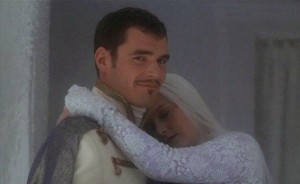 Snow Queen is a 2002 made-for-television Hallmark Entertainment film directed by David Wu and based on the story "The Snow Queen" by Hans Christian Andersen. The film originally aired on the Hallmark Channel as a two-part miniseries, but has since been released as a full-length film on DVD.
Jim Henson's Creature Shop supplied an animatronic Polar Bear. Suit performer Dan Payne also played the bear after he was transformed into a human prince.
Plot
Set in the present day in the north, the story focuses on Gerda, who lives in a hotel with her father Wolfgang (embittered by the death of his wife Amy years before). Gerda develops a romance with bellboy Kai, but a splinter of ice alters his personality, drawing him inexorably to the destructive Snow Queen. Kai vanishes one night, departing with the mysterious woman, but not without leaving a note asking for help. Asmonths pass, a distraught Gerda is determined to find her love, encountering the Snow Queen's siblings (representing the other three seasons), who each want to detain her. Meanwhile, Kai is trapped in a frozen castle, prevented from leaving until he reconstructs a magic mirror, unable to find an exit, and guarded by an irascible talking polar bear.
Cast
Jim Henson's Creature Shop
Awards
Saturn Award (2003)
Best Single Television Presentation - Nominated
Canadian Society of Cinematographers Awards (2003)
Best Cinematography in TV Drama - Won
Leo Awards (2003)
Best Female Lead Performance in a Feature Length Drama (Chelsea Hobbs) - Nominated
Best Overall Sound in a Feature Length Drama - Nominated
Ad blocker interference detected!
Wikia is a free-to-use site that makes money from advertising. We have a modified experience for viewers using ad blockers

Wikia is not accessible if you've made further modifications. Remove the custom ad blocker rule(s) and the page will load as expected.