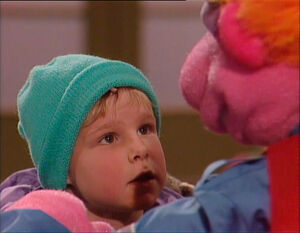 Snorre Valen (b.1984) is a Norwegian musician and politician who appeared in an episode of Sesam Stasjon, the Norwegian Sesame Street co-production. Around the age of five, Snorre played a kid that bought a ticket to Dahl, on his own, from Bjarne Betjent.
In an interview on Norwegian radio in 2015, Valen said his experience on Sesam Stasjon was bigger than when he was first elected to the Norwegian parliament; however, it was a bit embarrassing in his teenage years. An active member of the Norwegian Socialist Left Party, he has also represented the party in the Norwegian parliament. His musical career includes being a member of the Norwegian band Gallery and he is currently a member of the electronica group Amish 82.
Links
Ad blocker interference detected!
Wikia is a free-to-use site that makes money from advertising. We have a modified experience for viewers using ad blockers

Wikia is not accessible if you've made further modifications. Remove the custom ad blocker rule(s) and the page will load as expected.