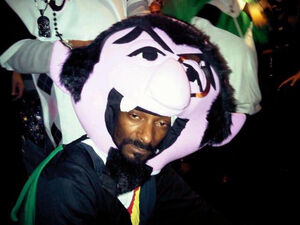 Calvin Cordozar Broadus, Jr. (b. 1971), also known as Snoop Dogg, Snoop Doggy Dogg and Snoop Lion, is an American hip-hop emcee, record producer, and actor. Snoop is best known as an MC in the West Coast hip hop scene.
Snoop Dogg filmed a celebrity cameo scene for It's a Very Merry Muppet Christmas Movie. Snoop Dogg's brief scene, in which he interacted with Kermit and the Electric Mayhem backstage in the Muppet Theater, was removed from the final cut of the 2002 telefilm by The Jim Henson Company and NBC, and was also absent from the DVD release, which included other deleted scenes.
According to a press release published on Henson.com:

However, according to many media reports, the motives for cutting Snoop's scene were not simply time constraints. Reporters stated that producers had extra incentive to cut the Snoop footage when protest arose over mixing a hardened hip-hop artist with classic children's characters.
Conservative radio show host Larry Elder, FOX News Channel's Bill O'Reilly, and Project Islamic Hope's Najee Ali led a protest threatening an NBC boycott over the inclusion of Snoop Dogg in the family film.
Najee Ali argued that the emcee was unfit for family television fare stating:

Kermit himself was quite frank about the matter in a guest appearance on The Late Late Show on November 22, 2002. Host Craig Kilborn quizzed him about the situation. Kermit's response was as follows:

Snoop's involvement in producing pornographic films included a contribution to the Girls Gone Wild franchise.
Writer Jim Lewis described the cut scene in a 2007 Q&A:
References
Sources
External links
Ad blocker interference detected!
Wikia is a free-to-use site that makes money from advertising. We have a modified experience for viewers using ad blockers

Wikia is not accessible if you've made further modifications. Remove the custom ad blocker rule(s) and the page will load as expected.