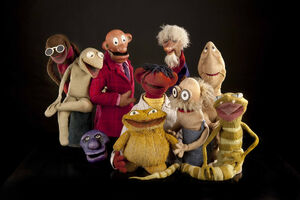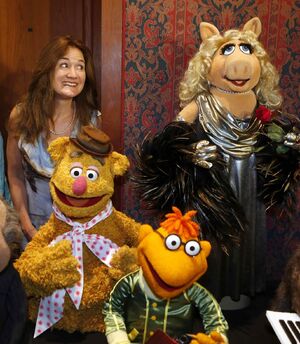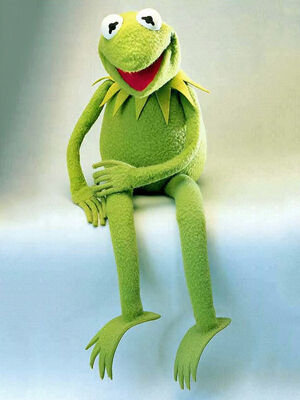 The Smithsonian Institution is a group of museums in Washington, D.C. established by the US government in 1846. Over the years, the Smithsonian has been host to a number of exhibits and displays featuring the work of Jim Henson.
From June to September 1979, the Smithsonian hosted Ten Years of Sesame Street, a special exhibit celebrating the show's 10th anniversary.
In May 2006, an exhibit called Muppets and Mechanisms opened at the Smithsonian. The exhibit, divided into three displays at the American History Museum, featured nine puppets from the original Sam and Friends show; a display of characters puppeteered by Jim Henson including Dr. Teeth, Rowlf the Dog, Kermit, and Jim; and animatronic figures and mechanisms from The Dark Crystal and Emmet Otter's Jug-Band Christmas. Jane Henson opened the exhibit.
Jane Henson, on behalf of the Jim Henson family, donated 10 of the original Sam and Friends puppets to the Smithsonian's National Museum of American History on August 25, 2010. These included the original Kermit, Pierre the French Rat, Yorick, Mushmellon, Sam, Harry the Hipster, Chicken Liver, Icky Gunk, Moldy Hay, and Professor Madcliffe.[1]
A traveling Smithsonian exhibit of Muppets opened Sept. 24, 2010 at Chicago's Museum of Science and Industry.[2]
Jane Henson stated in 2010 that the family plans were to donate more puppets to the Smithsonian in the future.[2] Those plans came to fruition three years later, when Cheryl Henson donated 20 more Muppet puppets and props to the National Museum of American History on September 24th, 2013 (Jim Henson's 77th birthday). Among the additions were Ernie, Bert, Elmo, Count von Count, Prairie Dawn, Miss Piggy, Fozzie Bear, Scooter, J. P. Grosse, Red Fraggle, Boober Fraggle, Uncle Traveling Matt, and Wilkins; as well as early puppet builds of Grover, Cookie Monster, and Rowlf the Dog.[3][4]
References
Oscar the Grouch makes a cameo alongside Darth Vader from Star Wars in Night at the Museum: Battle of the Smithsonian, a film about museum artifacts at the Smithsonian coming to life. During the film, a photo of Cookie Monster also appeared on the Smithsonian's website.
A stock photo of the Kermit puppet housed at the Smithsonian was used in transitions to Kermit sketches played in season 10 of Plaza Sésamo.
Collection
Gallery
Sources
External links
Ad blocker interference detected!
Wikia is a free-to-use site that makes money from advertising. We have a modified experience for viewers using ad blockers

Wikia is not accessible if you've made further modifications. Remove the custom ad blocker rule(s) and the page will load as expected.