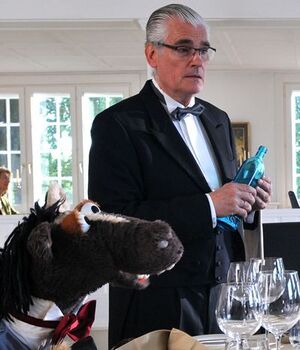 Sky du Mont (b. 1947), also spelled Sky Dumont, is a German actor who played maitre d' Jacques in the second season of Eine Möhre für Zwei, the spin-off of Sesamstrasse.
Beginning in the '70s and especially in the 1980s, du Mont appeared frequently in English-language co-productions, beginning with 1978's The Boys from Brazil (with Gregory Peck). He followed with roles in Avalanche Expres (1979) and the Disney-produced Night Crossing (1982, with John Hurt). In addition to Germans, he portrayed other European nationalities, such as Italian Prince Amadeo in Lion of the Desert (with John Gielgud), equally Italian Count Ciano in the 1983 miniseries The Winds of War, and years later, the Hungarian Sandor Szavost, who unsuccessfully flirts with Nicole Kidman in Eyes Wide Shut (1999).
For the Winds of War sequel War and Remembrance (1988-1989), du Mont returned to German form as Claus Schenk von Stauffenberg, the attempted assassin of Adolf Hitler. Other English-speaking television credits included the TV movies Inside the Third Reich (1982), Love from a Perfect Stranger (1986), a 1984 guest spot on The Scarecrow and Mrs. King, and a brief stint on the soap opera General Hospital in 1989, as Katherine's wealthy admirer Claudio Maldonado. His German language films include a small part in 1981's Das Boot (larger in the unedited televised version) and Otto - Der Film (with Otto Waalkes). He has been either host or frequent guest on many German talk shows or quiz series, and has acted in episodes of Der Kommissar,Der Alte, Derrick, and Tatort.
External links