Sky is a broadcasting and streaming media company that serves as Europe's largest pay-TV broadcaster with over 20 million subscribers. It consists of several subsidiaries, including:
Sky Movies
In March 2014, the network aired a thirty minute behind-the-scenes feature on Muppets Most Wanted. In November the same year, a television commercial aired to promote the channel's Christmas lineup of movies, including Muppets Most Wanted, in which a family finds themselves as Muppets during a production of The Muppet Show.
Sky 1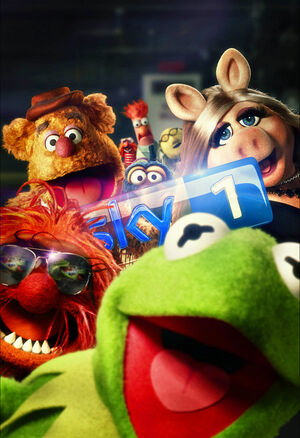 Sky's flagship channel broadcasts The Muppets, imported from ABC in the US. Miss Piggy announced the news on Facebook in July 2015. [1] Scenes from the pitch pilot were redubbed for a UK-trailer, with Kermit announcing "Sky 1 wants to put on a new prime-time series starring the Muppets," instead of the original "ABC wants to put on a new prime-time series starring the Muppets." Several other Sky 1-tailored trailers were produced, and aired in October leading up to the show's UK-premiere date of October 19, 2015.
Ad blocker interference detected!
Wikia is a free-to-use site that makes money from advertising. We have a modified experience for viewers using ad blockers

Wikia is not accessible if you've made further modifications. Remove the custom ad blocker rule(s) and the page will load as expected.