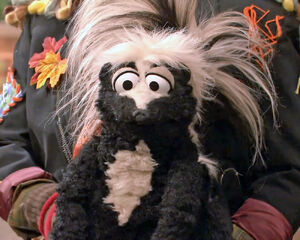 A skunk appeared on Sesame Street as a Grouchy Mother's Day gift for Mrs. Grouch from her daughter Bunny in a season 41 episode. The skunk's odor was also bottled in a spray used by Bob when he dressed as a grouch with Gordon and Chris.
A new skunk puppet debuted in season 43 for the Elmo the Musical segment, "Guacamole the Musical." The puppet later appeared in a "Word of the Day" segment with Troy Polamalu in a season 44 episode (played by Matt Vogel), a season 45 episode and as "Mr. Smellsalot" in The Furchester Hotel episode "Skunks Welcome."
The original puppet is a refurbished version of Stinky the Skunk with Muppet eyes.
See also
Ad blocker interference detected!
Wikia is a free-to-use site that makes money from advertising. We have a modified experience for viewers using ad blockers

Wikia is not accessible if you've made further modifications. Remove the custom ad blocker rule(s) and the page will load as expected.