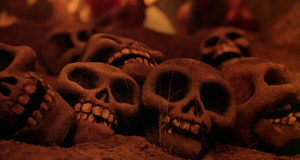 Skulls are bone structures in the heads of many humans and other creatures. They were seen singing Shiver My Timbers at the beginning of the film, Muppet Treasure Island, they were also added as button graphics on certain menus of the DVDs.
One of the skulls later appeared in a 2009 interstitial on Disney's Haunted Holidays website.
The skulls return to sing The Blue Danube with some ghosts at The Muppets Take the Bowl.
Ad blocker interference detected!
Wikia is a free-to-use site that makes money from advertising. We have a modified experience for viewers using ad blockers

Wikia is not accessible if you've made further modifications. Remove the custom ad blocker rule(s) and the page will load as expected.