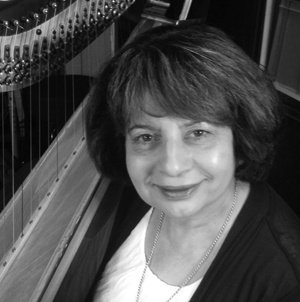 Skaila Kanga is an Indian-born harpist. On The Dark Crystal, she received screen credit as a soloist, playing harp for the Mystic Weaver (urUtt) during the funeral.
Early in her career, Kanga performed with the BBC Concert Orchestra on radio, from assorted concerts (usually classical) to classically-themed radio plays such as George Bernard Shaw's Caesar and Cleopatra. She later spent twenty-five years with the Nash Ensemble. Kanga recorded several albums of classical music, including Mozart, as well as backing pop artists such as Elton John, the Carpenters (on Christmas albums), Joni Mitchell, James Taylor, and Robbie Williams. She is Professor Emerita of Harp at London's Royal Academy of Music.
Kanga performed on the soundtracks of several British TV series, including Inspector Morse (which heavily incorporated classical music), Monarch of the Glen, and the newer versions of Upstairs Downstairs and Poldark. She has played on the scores of many films, including two of The Hunger Games movies, Les Misérables, Twilight, The Da Vinci Code, Hitchcock, Maleficent, Tinker Tailor Soldier Spy, Captain America: Civil War, and Fantastic Beasts and Where to Find Them.
External links